What is Google SEO? All business owners are, or should be, asking this question. How do I get a high ranking on Google? Making it to the first page on Google search results is complex. SEO or search engine optimization is considered the best way to get a ranking on Google. It's a process that requires a lot of patience, persistence, creativity, knowledge, and skill. While it may be complex, the good news is you have some control over this.
It helps to understand the reasons behind why this is important. Why does Google care about SEO? First and foremost, Google is a business. They generate 40 billion dollars a year off of the paid-for ads on their search engine. To keep you coming back to their search engines, Google has to provide you with quick relevant answers to your questions. This is why Google cares about optimization. If they can't provide the best answers in the quickest time possible, people will go elsewhere. 
There is no magic secret or quick shortcut that will rank your website #1, but some ways to rank work faster than others. So, if you want a high ranking on Google, you need to know some search engine ranking factors.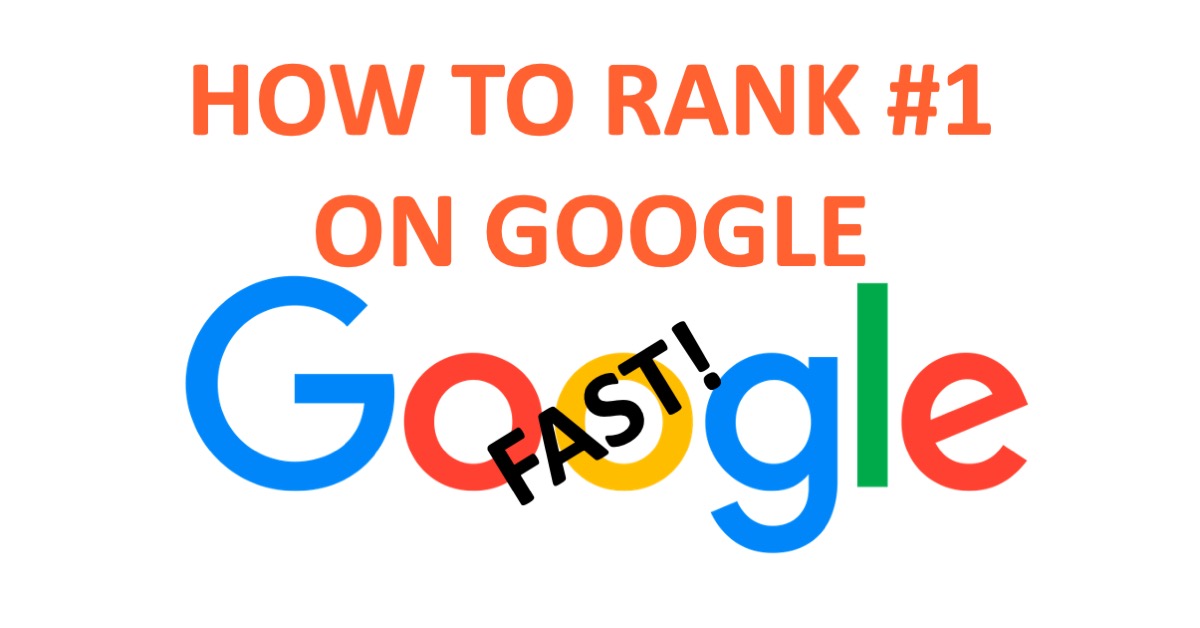 What does Google SEO do for you?
SEO can help push your website, your content, your product, to the first page of the search engine. There are millions of people looking for products and answers daily. A properly optimized website can set you apart in the search results against a competitor. How does it do this? It optimizes your website to get organic and free traffic from the search engine results page (also known as 'SERPs' or 'SERP').
Top Google rankings are crucial for any online business's success. According to Backlinko, the first link on the page gets 31.7% of all clicks, while the results on the second page receive only 0.78%. 
How Does It Work?
Search engines take what the SEO has indexed and match it to what the query input is. Google has automated software that crawls (otherwise known as fetches) pages from the web and indexes them. They call it the Googlebot.
Its purpose is to search for updated or new web pages. It can find the new URLs or updated pages by following links, reading sitemaps. You can also manually submit your sitemap directly. Google takes the stored index and feeds it through the algorithm in SERP and that produces the best data match available.
What Are the Four pillars of SEO?
The pillars reference a combination of factors, known as signals. Google uses them to determine the search engine results. They help bring the most relevant and authoritative websites to the top of the search results.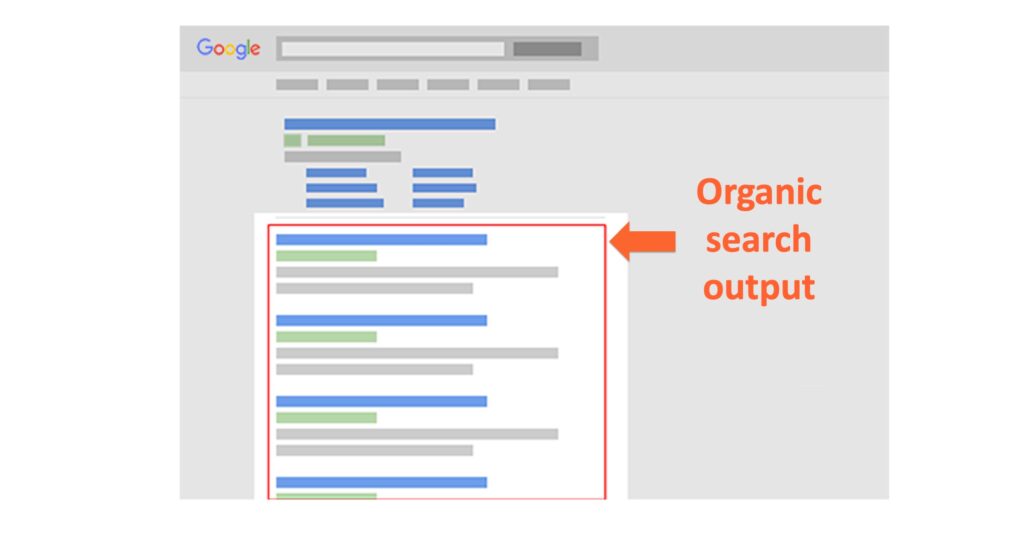 This was once referred to as the three pillars of SEO until Google announced a fourth pillar, User Experience. We can simply call this RATE. The acronym stands for:
Relevance 
You will not see a page ranking on Google that isn't relevant for the term that was searched for. It lets the user know that you have the exact content they want to consume. When they click the external link, it should take them to the relevant destination page. Your web page content should be high-quality and relevant to the keyword query entered by a user. Issues occur if a website tries to rank content they don't offer and are not relevant for.
According to a Google engineer: "… getting a link from a high PageRank page used to always be valuable, today it's more the relevance of the site's theme in regards to yours, relevance is the new PageRank."
Authority 
How well regarded are you? PageRank is the backbone of how Google ranks content. PageRank works on a voting system, the more votes it has, the higher it ranks. Every link to the page is a vote. Authority is all about reference. A high PageRank page can also pass on some of its ranking power by linking to other pages. This is known as link juice.
To gain popularity through links, you need quality content. You need to create content that other creators want to reference to. You need to be an authority on the subject.
Trust 
Google is outfitted with an anti-spam algorithm. This is called TrustRank. Being trustworthy is all about consistency, quality, and avoidance of conflict. You have to earn this trust on your website to get a high ranking on Google. How do you earn this? Well, first it's important to note that the trust metrics are not easily manipulated. According to Google: "… if you have a lot of very high-quality links, then you tend to earn a lot of trust with Google".
Having quality links, the age of the content on your website, and the domain, are all trust metrics. This is why methods such as duplicate content and link farming are damaging to your TrustRank. Link farming is where a group of websites are created and given reciprocal links, all to manipulate their ranking on SERP. Top-ranking websites want to be seen as trustworthy. It's the reason there are webmaster guidelines to follow.
User Experience 
What will the users' experience be when they land? Over the last couple of years, Google added a variety of user experience criteria. As of June 2021, Google officially rolls out its user experience with web vitals. It will join the hundreds of other signals Google considers when it generates search results. There are metrics to help Google perceive the experience the user will have on the website.
Does the page load quickly? Is it mobile-friendly, safe, do the page images and content buttons move and shift, and is the page content easily accessible to the user? Page Experience Signals contribute to what the search results are. These are the signals that are important for delivering a good page:
Core Web Vitals: they measure loading performance, interactivity, and visual stability
Mobile-Friendly
Safe-Browsing
HTTPS
The page experience is important but it doesn't override quality content. Google will always seek to rank pages with the best information overall, even with a sub-par page experience.
Following these guidelines outlined by Google can boost your ranking. Remember, Google is searching for top-quality, relevant information that answers to the user's query. 
In short, 
Create high-quality content that, relevant to the intent of the users you are trying to attract.
Build your domain and page's authority by earning references from quality sources
Avoid behavior that damages the trustworthiness of your domain
Work to ensure that a user will have a positive experience when they land
What Is the Google SEO Framework?
If you want to rank on Google search, you need to take advantage of the SEO framework. There are tools available to help increase organic traffic to your website. The three major sub-domains are:
1. On-Page SEO
It's a method of optimizing individual web pages to rank higher in the search engine results. It can direct more relevant organic traffic to your page. This is found in the content, correct keyword placement, and backend structure of a site. On-page SEO helps your website be recognized by the algorithm. It's more than keywords and long-tail keywords. There are many methods that on-page SEO covers, like: 
Mobile-friendly website
Image optimization
Content optimization
Keyword Research
Targeting low competitive keywords
Adding keywords to your website content
URL structure that is user friendly
Meta title and description tag optimization
Using outbound links
Internal linking
Having long blog posts (>1200 words)
3. Off-page SEO
Off-page SEO refers to the activities done outside of your website to increase your ranking on SERP. The goal is to get a search engine to see your website as trustworthy and authoritative. You can boost your website's Google ranking with backlinks but a single high-quality backlink from an authoritative site is more impactful than 100 low-quality links. Off-page SEO is often thought to be only link-building, but there are other technics you can use:
Brand Building
Citation Building
Social Media
Reviews
Podcast
Guest Writing
Forums
Events
3. Technical SEO
This refers to improving the technical aspects of a website. The purpose of Technical SEO is to ensure your website meets the proper requirements for a search engine. With these requirements met, search engines are enabled to crawl, find, and index your content properly. The main goal is to drive organic traffic to the website so it can rank on Google. This is a tool that can help you understand what needs to be optimized on your site.
How can you optimize your website for Googlebot? Using technical optimization, there are many ways to do this.
Fast loading time – less than in 3 seconds
Site structure
Mobile and device responsiveness 
No broken links
Free of duplicate content
Fix thin content (thin content has little or no value to add)
What Is Local SEO?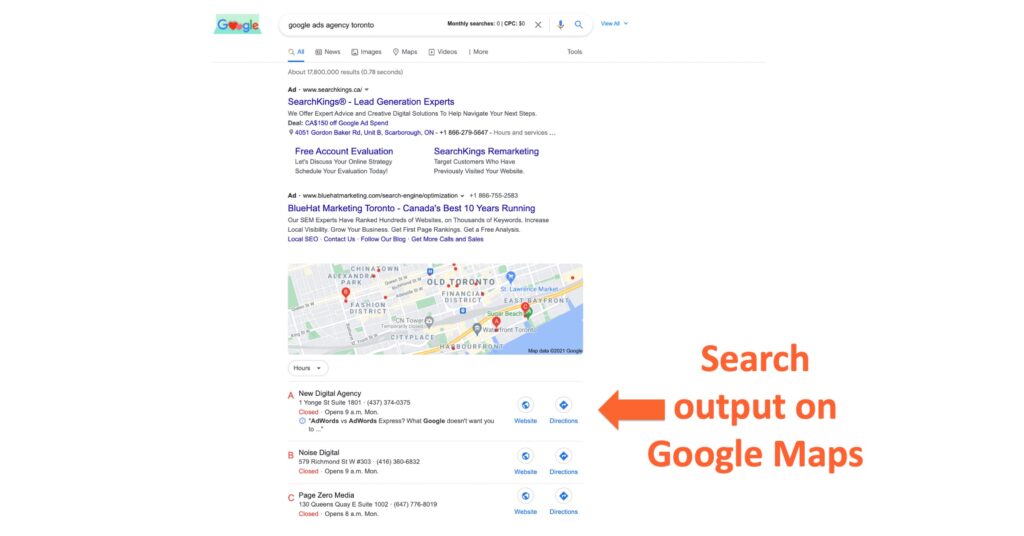 Local SEO is a method in which a business can improve visibility on search engines in their geolocation, e.g Google Maps. Investing in local SEO helps a business surface in Maps and search results when someone looks up a specific service, 'near me.' Unlike organic SEO, local SEO is dependent on users looking for a product or service in a specific location. 
There is a strong connection between mobile and local search as more and more people use their devices to engage with local businesses. You need to be optimized for mobile. If you're not, you risk losing exposure to local traffic. 
There is a difference between the algorithms used in local SEO and organic SEO. Local SEO considers these three factors:
Proximity
Prominence
Relevance
The biggest driver of local SEO is Google My Business. This tool allows businesses to adjust how their website shows in Maps, knowledge graphs, and organic search results. Through Google My Business, you can add or claim your business profile, which allows you to ensure that it is up-to-date and comprehensive.
Google My Business gives you control over how your business is presented on the world's leading search engine. It's also good practice to keep up-to-date with other sites, such as Yelp, Facebook, Better Business Bureau, etc.
Useful Google SEO tools
Has your website been banned by Google?
Google has quality guidelines that affect the algorithm outcome for a website if it is not in compliance. Other more illicit practices may lead to the site being removed entirely. 
Has your website experienced a drop in organic traffic? After months or years of consistency? The website may have been deindexed or banned. With swift action, a site can recover. 
There are great tools available to help identify the issue. MxToolBox Domain Health Report tool will check for major issues in five different categories: general site problems, blacklist, mail server, web server, and DNA. It performs hundreds of network tests to make sure all of your systems are online and performing optimally.
Google has changed its algorithms hundreds of times. A change in ranking and site traffic can be directly caused by one of these algorithm updates. To restore your ranking on Google, your website will need to be optimized to the new algorithms.
If you are wondering if your site's traffic has been affected by this, FE International's Website Penalty Indicator tool will check if a website has been penalized by a major algorithm update. 
Google will also issue manual action against a site if a human reviewer at Google determines the site is not in compliance with the webmaster's quality guidelines. To check for a Google penalty, login into Google Search Console and look for the 'Security & Manual Actions" report. If Google has taken manual action against you it will be visible here. However, it will not tell you if a Google algorithm update penalized your website.
Organic Traffic
Organic traffic is delivered through relevant results. Ranking on Google is crucial for a business, so this is something worth paying attention to. Knowing which keywords are generating traffic to your site is harder than it used to be, but is still possible.
A comprehensive yet simple tool to use is Serprobot. It will identify and show you the keywords that have sent organic traffic to your site within the last 12 months. It also includes an on-page SEO keywords performance chart.
 SERP Scan offers an embedded code to track search queries visitors use to find your website. With this tool, the data you need to obtain from Google Analytics is easy to get. It will help in understanding the broad picture relating to keywords on your website. But, you still need more.
To sum it up, what Google deems significant or reliable is what the public accepts. Ranking locally, e.g. on Google Maps in may cases can be done faster than in the organic search output. On average, SEO takes 6-12 months to start working, therefore the sooner you start the better.
As a team of digital marketing professionals at New Digital Agency, we've implemented the SEO steps to successfully ranked websites.
OTHER RELATED TOPICS: