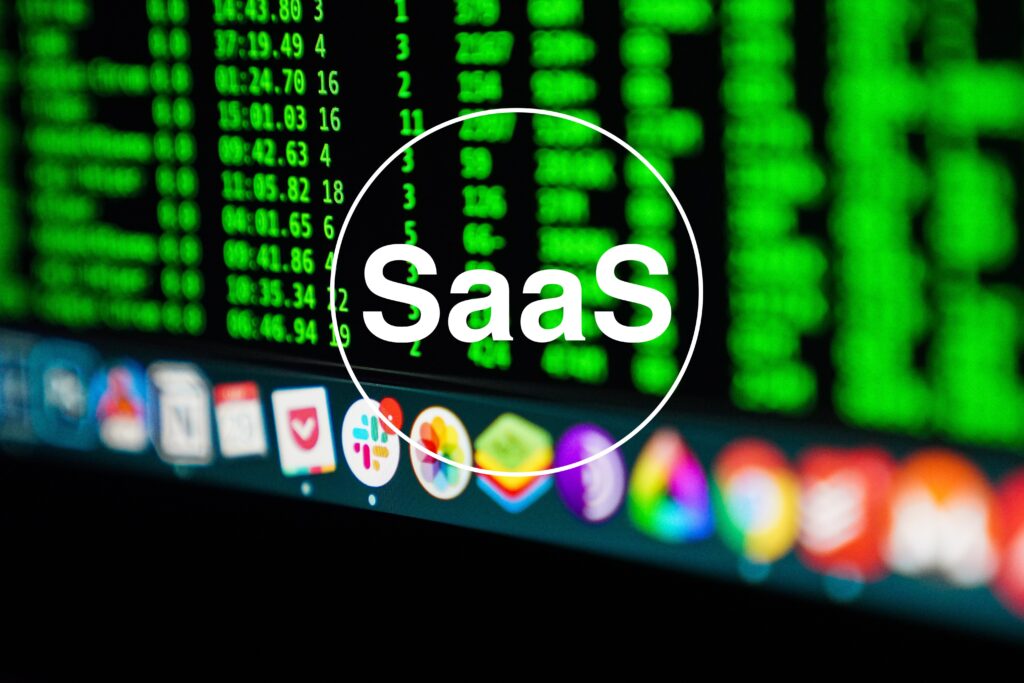 If you run a SaaS business, profitable lead generation is most likely one of your biggest challenges, especially at the start. You could spend weeks trying to get on calls with your target market, sending cold emails, and altogether spinning your wheels as you struggle to push forward.
You need to spend less time on client acquisition and more time on improving your product. You should revise your marketing strategy and start acquiring clients passively.
Passive client acquisition is what makes Google Ads, formerly Google AdWords, one of the best marketing channels for SaaS businesses. Once you get a Google Ads Campaign up and running, you can sit back and watch as the leads and sales pile in. No need to sweat over your next discovery call when you know that Google's advertising platform is going to bring you more leads soon.
In this post, we're going to go over what the high converting Google Ads campaigns for SaaS do differently, and before we get into the details, we want to highlight a few points to get you thinking first:
Of course, Google Ads aren't going to be easy at the start. Managing Google Ads for SaaS can quickly turn into a capital-intensive disaster if you aren't familiar with the best practices of Google Ads for SaaS startups effectively. Creating an effective campaign will require you to bring in loads of data. It's not uncommon to run your first couple of Ads campaigns at a loss; you'll likely pay more to reach your prospects than more experienced competitors. However, if you're diligent and learn from your mistakes, you'll succeed at optimizing your Ads campaigns.
Even if your first campaign doesn't generate much revenue, it will still help you conduct crucial customer research. And once you've learned how to target and bid on your audience properly, you'll see a ridiculously high ROI on your ad spend.
Most of your prospective SaaS customers are searching for solutions to their problems on Google. At New Digital, we've helped dozens of companies, including SaaS companies, reach their target market with Google Ads. We based this guide to Google Ads for SaaS on years of business experience.
What Are Google Ads?
Have you ever noticed those ads at the top of Google every time you run a search? Some SaaS companies spend millions of dollars per year on Google Ads just so that they can reach the top slot over and over again.
You don't need to spend millions of dollars yourself, but you should understand that Google Ads are an important weapon in any company's marketing arsenal. Google Ads allow you to target specific demographics that search for specific keywords on Google. Every time someone searches for a keyword related to your product, you can pay to show them your ad at the top of Google. This is a lot more direct than traditional advertising. It's like putting up a billboard but only paying to show it to people you think would be interested.
Formerly known as Google Adwords, Google Ads can come in text, image, and video formats. Your choice of format depends mostly on your niche. Google Ads for SaaS businesses could incorporate all three to demonstrate a product's features.
Why Your SaaS Business Needs Google Ads
In the early stages of your SaaS startup, it's all too easy to dismiss Google Ads Management as "too expensive," especially if your software is reasonably priced. Customers can be attracted, valuable brand exposure can be earned, and a consistent stream of leads can be generated at a very low cost if the right strategy is implemented.
AdWords is a powerful tool for acquiring new trial users and paying customers for SaaS businesses. Results can be spectacular when the right keywords, ad creative and bidding strategy are used in conjunction with one another.
We have helped our SaaS clients in breaking through the high Google Ads cost per click (CPC) barrier and generating profitable leads and loyal customer base , which has resulted in the following outcomes:
Reduced cost per customer acquisition (CAC) by 30-50%
Increased Marketing Qualified Leads (MQLs) by 50-60%
Increased Sales Qualified Leads by 40%
If you're going to run search engine ads, then running ads on Google is a no-brainer. Google dominates the competition, taking up an 87% market share compared to other search engines. Moreover, Google estimates that advertisers on their platform receive a whopping 8 to 1 return on investment when they spend on Google Ads.
This is what makes Google Ads such a popular advertising platform. Every day, there are hundreds of thousands of prospects searching for the right software to meet their needs. Just conduct a search using a keyword like "CRM for restaurants" and watch as the most popular SaaS companies in the CRM niche, like Monday and Pipedrive, show up at the top.
5 Ways Google Ads Can Help Grow Your SaaS Company
Your strongest competitors already use Google Ads. If you want your SaaS to achieve the same type of dominance, you'll need to enter the ring with your own ads. The benefits of getting your name out there will compound over time. Let's go over specific use cases where Google Ads can help your business.
Boost Your Website's Conversion Rate
Ultimately, the objective of your website is to convert visitors into customers. Running Google Ads will help you take advantage of the hard work that went into designing your website. You'll receive more visitors who want to buy your product.
Of course, your first ads won't deliver new customers unless you engage in a bit of conversion rate optimization (CRO). That means you'll need to split test landing pages to determine which types of visual elements work. For instance, you could vary your fonts, images, colours, and more.
You'll need to split test your landing page copy too. The best voice for each landing page will depend on the audience you're trying to reach. You will often change your landing page content depending on the keyword you use.
CRO requires a lot of fine-tuning, but when done properly it's extremely rewarding. If you can increase your conversions by 50% across the board, then that can have a massive impact on your profit margins in the future as you welcome new customers.
High conversion websites are obvious right away, since they have good UX design on desktop and mobile, and have a quick load time. For example, Mint – a financial management tool. Signing up for the service is free. A note of 30 million users, supported by reviews and testimonial immediately build credibility.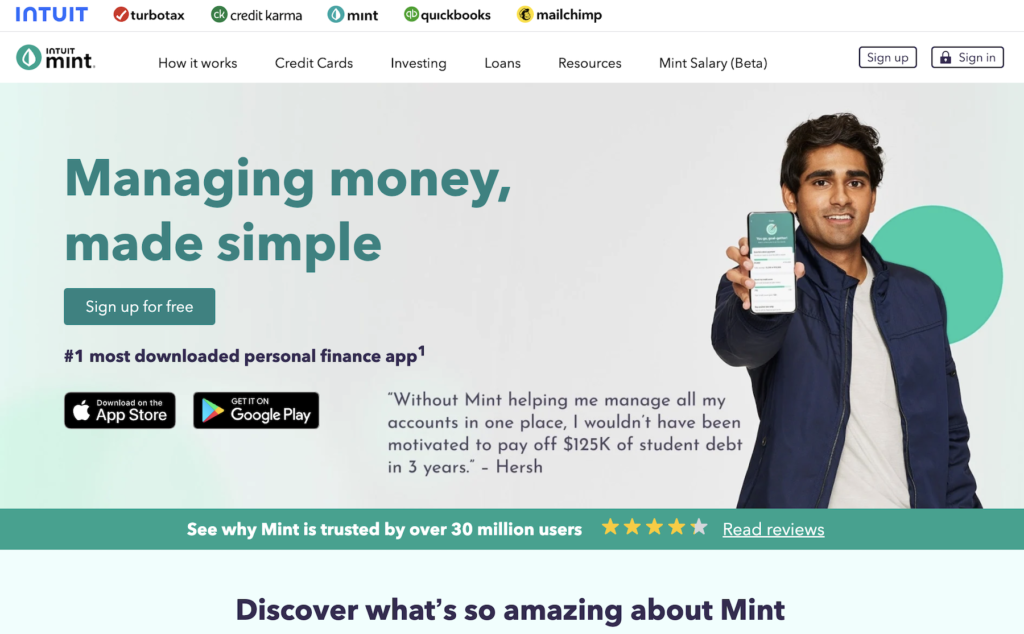 Increase Your Firm's Return On Ad Spend (ROAS)
As we mentioned earlier, Google Ads offers SaaS businesses an excellent return on investment. Consider traditional online advertising tactics like banner ads. Those ads are useful, but they don't speak to your audience as directly as a search engine ad. That's because the banner ad doesn't directly answer the question that your prospect would be asking with a Google search.
Small and mid-sized SaaS businesses benefit from this strategy a lot. After all, you don't have the resources that your larger peers have, so your ad spend needs to be efficient.
You can calculate your ROAS easily. Just divide your total revenue from your ads by your total ad spend to get your ROAS ratio.
Elevate Your Ranking on Search Engine Results Pages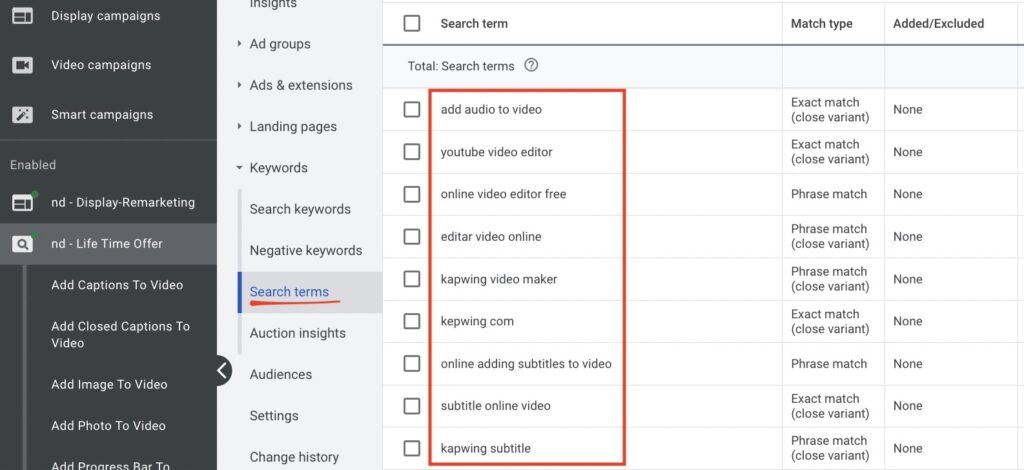 When you're first starting your website, you'll notice that you won't get a lot of organic traffic. If you want visitors to your website right away, then Google Ads are essential. People typically think SEO requires you to publish tons of relevant content on your website until you start ranking for your desired keywords, but Google Ads can help speed this process up.
Google Ads will tell you exactly which types of keywords are relevant to your audience. The more ads you run, the more data points you'll get. This will help you focus on your organic SEO outreach strategy in the future. Moreover, if you run quality ads that garner a high clickthrough rate, that will tell the Google Search algorithm that your website is worth clicking on. Not to mention, other websites will begin linking to your business as your website gains notoriety.
As a result, your website will rank on results pages much faster than SaaS companies that rely exclusively on organic page visits.
Make Your Brand Memorable
Every marketer knows that brands that stop advertising to their customers always end up losing market share. This rule applies to SaaS companies too. Why do you think those famous SaaS companies we mentioned earlier still pay to reach the top of Google? They want every potential buyer to remember who they are. Even if they don't make a sale right away, a prospect could recall their name from a night of intense research one year later and come back to purchase the software.
This begs the question, how do you create a memorable SaaS brand? You'll need to come up with a unique identity that permeates your Google Ads. You must create both an emotional and logical reason for your prospects to buy.
Therefore, you should write your Google Ads not just to make a sale right away, but also to impress prospects that are on the fence so they might come back to you later.
Of course, it's not easy for a small SaaS to compete with big brands. You need to be judicious with your marketing budget. Start by trying to achieve market dominance in a more narrow segment of your target market. For instance, you could pick a specific age group and/or geographic location to try to dominate.
Utilize Search Term Report to Keep Your Blog Current
In the Google Ads search terms report, you will find a list of search terms entered by users that resulted in your ad being displayed or being clicked. Quite frequently, this list will be significantly different from the Google Ads keywords for SaaS you have created.
In general, reviewing these lists on a regular basis aids in the identification of negative keywords as well as new keyword opportunities for use in campaign optimization efforts. Additionally, we recommend that you review your search terms report in order to identify low-intent keywords that are further up the conversion funnel.
For example, you might notice that users are asking a variety of questions about your product. In spite of the fact that these users are not actively looking for a software solution, they may be considered potential customers and are therefore worth engaging with, provided that you have the appropriate strategy in place.
In Google Ads for SaaS, if you can direct these users to an article on your website that addresses their questions and provides value to the user, you've effectively established yourself as a thought leader, which naturally leads to the development of trust in your organization. This is a strategy that is based on the principle of "value first." In the event that someone has read a valuable article, they are much more likely to consider an offer made by your company later on in the process.
Once you've done that, you can create audience lists for any users who have visited the blog URLs and include them in a remarketing campaign that directs them down the path to optimized conversion rates.
10 Tips to Manage SaaS Google Ads Campaigns successfully
Many people that start using Google Ads do so without knowing all the potential pitfalls. Don't create Ads campaigns blindly. Instead, you should strategize first before implementing your plan of action.
Customize Your Campaign Goals
Google Ads gives you the ability to choose campaign goals at the start of your campaign. Some of these goals include increasing leads, sales, website traffic, and brand awareness. If your SaaS has an app, you should also take advantage of Google Ads' mobile app promotion feature.
Naturally, your goals should align with your overall strategy. When you're just starting to use Google Ads you might be keen on accumulating a large pool of leads that you can convert into clients in the future. Later, you might transition to focus on sales once you see that you're gaining traction but not converting enough leads.
You can always alter your campaign strategy when needed. At New Digital, we've had success utilizing bidding strategies that optimize campaigns for return on ad spend. Alternatively, you might test automated bidding strategies that focus on reach or conversions, but we believe that optimizing ROAS is perfect for helping bootstrapped SaaS companies grow.
Spy On Your Competition
Everyone spies on their competitors, so why don't you join them? An essential part of starting a Google Ads campaign is to run a search for each keyword you're targeting and check out your competitors' ads. Analyze the language that they use to describe their product. Take note of what they do well, and also what they do poorly. If you want analytical data, paid tools like Ahrefs and SEMrush are useful too.
Sometimes, you might find that the ads for the keyword don't match up with the product you're offering. That's a good indication that maybe you shouldn't target that keyword. Unless of course, you're confident that your competition is mistaken.
Once you've run a few Google Ads campaigns, you can compare your performance to your competitors by using "Auction Insights". This will help you improve your decision-making when it comes to bidding and budgeting. It will tell you where you do better than your competitors and where you fall short. You can narrow these insights based on keywords, ad groups, or campaigns.
Focus on Competitor Keywords to Attract New Customers
Within Google Ads, you can use keywords to target competing brand names and products. While competitive keywords are costly, they work. When the lifetime value of a SaaS customer is taken into account, the cost of bidding on competing keywords becomes significantly more manageable. One of our clients obtains 54% of their total conversion volume via competitor terms.
Utilize the "Auction Insights" tool on existing campaigns to determine which competitors you should bid on. The Auction insights report enables you to compare your performance to that of other advertisers participating in similar auctions. Then, using Keyword Planner, conduct a search for your competitors' terms and associated search volumes.
Google will not permit you to advertise using a competitor's trademark. Additionally, your ad copy or landing page should never contain any false claims or unfair comparisons. The simplest way to execute this Google Ads management for SaaS strategy is to bid on the brand name of a competitor, e.g. "competitor name."
When combined with a landing page that focuses exclusively on the value of your software, this type of keyword can generate a steady stream of trial signups and paying customers for your startup.
When you compare similar products – for example, your reviews and their reviews, or your pricing and their pricing – you force potential customers to choose between your product and their product. Offer superior value for money, superior features, or a superior reputation, and you'll attract customers who weren't actively looking for your business.
Use Problem and Solution Keywords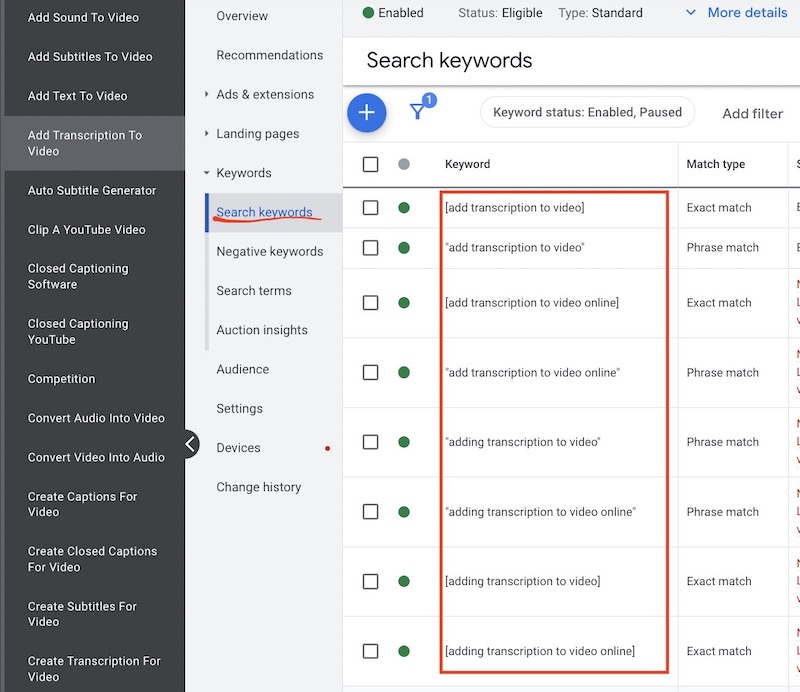 Instead of going for high volume keywords that are more expensive, focus on more specific, long-tail keywords, that provide solutions to your customer's problems, to deliver a highly relevant experience for your visitors.
To craft a solution-centred ads and choose the PPC keywords most effectively, you have to know your customer's needs. What are the pain points of your customers? How does your product solve them?
Then group the keywords in ad groups with different problems and create relevant ads offering the solution to their problems. Make sure that the landing page experience is relevant to the keywords and the ads. Sometimes it is worth creating seawall landing pages to improve visitor's experience. Providing your audience with relevant content validates your offer, so when the time comes (based on the length of your sales cycle), the customers will be more inclined to make a purchase.
Overall Research SaaS Keywords Thoroughly
We've mentioned keywords quite a bit already, but we haven't yet told you how to go about finding the right ones. There are several approaches you can take to keyword research. In general, we recommend using Google Ads' keyword planner to find the most relevant keywords for your customers.
All you need to do is type in one keyword, for example, "lead generation software", and then Google Ads will produce hundreds of different keywords. For each keyword, they will give you the average range of monthly searches and the estimated price range for a top-of-page bid.
This information will help you determine how fruitful the keywords could be to your business. That said, you'll also need to analyze the type of content a potential customer would expect from that keyword. Make sure that the people you're targeting actually intend to buy. I.e. someone searching for "free lead gen software" probably isn't a serious prospect you want to pursue.
Utilize Audiences as a Metric for Your Campaigns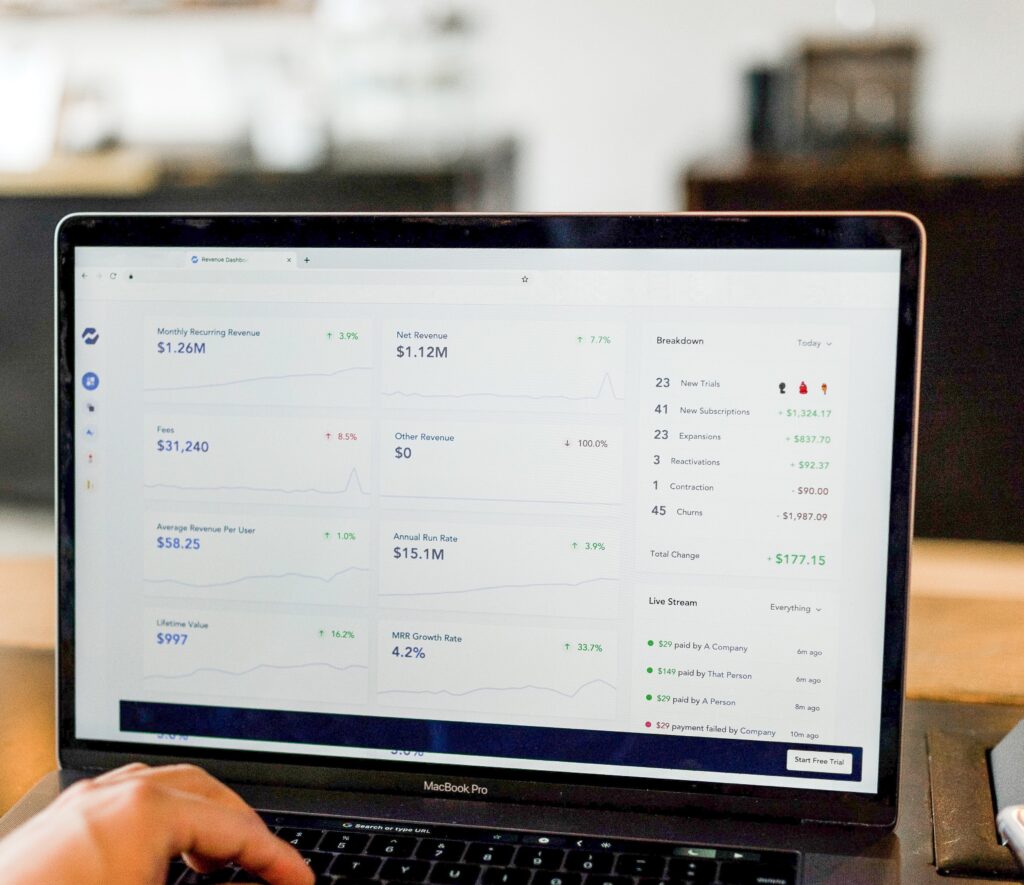 In-market audiences enable advertisers to reach consumers who are actively researching or comparing products and services on Google Display Network publisher and partner sites, as well as on YouTube. They can help you achieve incremental conversions by connecting with consumers just before they make a purchase decision.
Similar to remarketing lists, these can be used as a targeting or observation setting in your search campaigns.
For instance, individuals in the "Business & Productivity Software" in-market segment are interested in purchasing software that includes business applications such as word processing, spreadsheet, presentation, or dictation.
If we added this in-market audience to the "targeting" list, Google would only display ads to users who fall into that category, significantly limiting your reach.
If we add this audience as an "observation," Google Ads will begin providing us with insights into all click, conversion, and engagement metrics, but will continue to show our ads to users who do not fit this audience.
We recommend beginning with observation. With time, you'll be able to determine which in-market audiences perform well or poorly. Armed with these insights, you can now decide whether to increase or decrease bids OR to completely exclude an in-market audience. It will eventually assist you in lowering your CAC.
We strongly advise you to include in-market audiences. You may discover that your customers have additional interests, such as "Home & Garden," "Real Estate," or "Travel." We frequently encounter audiences with high conversion rates that defy logic, but as is always the case with performance marketing, the data does not lie!
Utilize Audiences that are Similar to Your Current Audience to Broaden Your Reach
Two factors may impede your ability to scale Google Ads campaigns for SaaS companies as quickly as your larger competitors:
1. Your audience is restricted to individuals who have an immediate need for your product.
2. You simply lack the data necessary to scale your operations efficiently and effectively. One of the most straightforward ways to circumvent these constraints is to scale your campaign using lookalike audiences. If you use a retargeting pixel, targeting similar audiences enables you to market to people who share your website's browsing habits.
3. By including similar audience targeting in your campaign, Google will conduct a search of your retargeting list for common or similar cookies. Rather than waiting to scale your campaign using keyword or placement data, you can quickly and effectively scale to a similar audience.
4. Select a precise target and then conduct remarketing
If your Google Ads for SaaS top of the funnel targeting is effective, only a small percentage of visitors to your SaaS website will be uninterested in the product. Then retargeting is an excellent strategy for reconnecting with potential customers and putting your brand in front of them.
One method of remarketing is to include an AdWords for SaaS tag on your website, which will advertise to anyone who visits it. This strategy will result in a small number of conversions.
Alternatively, rather than targeting every visitor to your website, you could create a custom audience based on users who have already converted on your site and then exclude them from the retargeting audience. Unlike eCommerce websites, which sell a variety of products, SaaS websites typically sell only one.
This means that targeting website visitors who have already converted is pointless. This way, you'll avoid wasting money marketing to users who have already paid for your SaaS, leaving you with more funds to spend on reaching motivated potential customers.
Utilize a Duplicated Campaign Structure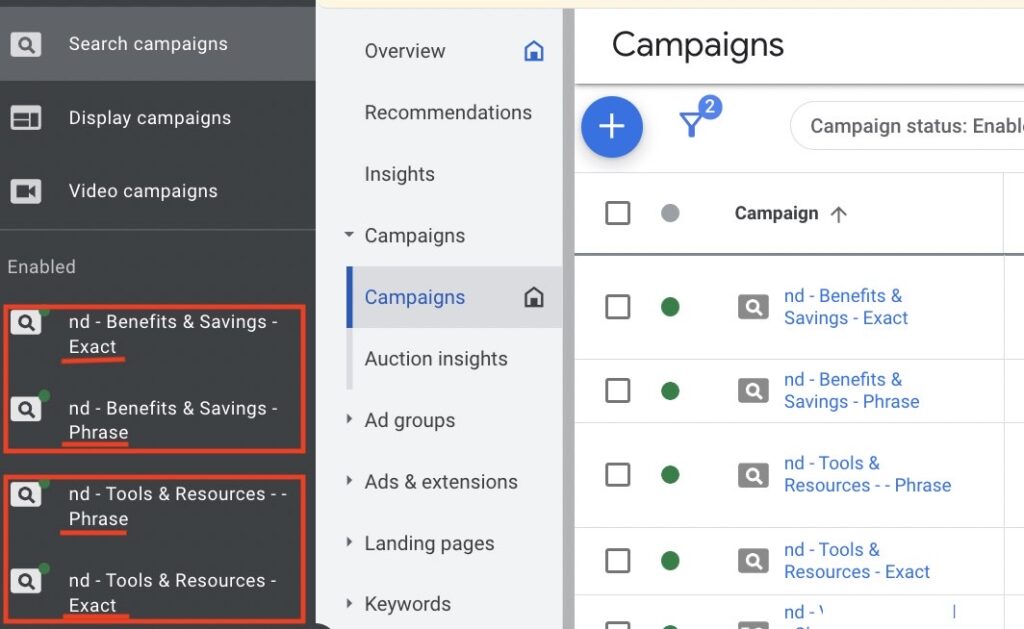 We frequently discover that this is a winning strategy in the B2B space with, particularly high CPCs.
Create and run two almost identical campaigns, one with exact match keywords and the other with phrase match keywords. We do not recommend using broad match keywords. unless you want to explore new customer audiences on expense of your budget.
Phrase match campaigns are launched with smaller budgets than exact match campaigns. Their purpose is to assist you in generating new keywords that you may have overlooked while conducting keyword research and building campaigns using the search query report. The exact match campaign's strategy is to increase your impression share on the exact traffic you want by allocating larger budgets.
You must split the two campaigns; as otherwise, you will be unable to allocate budgets independently for each keyword match type.
Design Beautiful Landing Pages
Your landing page is the face of your business. Most likely, it's the first thing your prospects will ever see from you. Therefore, you should put the same level of effort and care into your landing page as you would into building your product.
When someone clicks on one of your ads, Google sends them to your landing page. Hence, Google evaluates the quality of your ad, based on how long they stay on your landing page. The more relevant your ad copy, the longer people will stay on your page and Google will assign your ads a higher quality score. This will help your ads rank higher and your bids cost less.
Aside from writing top-quality Google Ads copy, you also need to address potential deal breakers pre-emptively. Make sure your landing page loads quickly, and also ensure that the design is engaging. Any information that you post about your company or anything else should be accurate, you want to maintain trust with your visitors.
Don't Forget About Video Ads
Most people find watching videos more engaging than reading articles on the internet. Just as your customers are trying to solve their problems with a Google search, they're also trying to solve their problems by watching pertinent YouTube videos.
Similar rules apply to YouTube ads as Google Ads. You might need to create different videos for different customer segments. Moreover, you should quickly demonstrate your product's strongest features and position them as benefits that solve your target demographic's problems.
To optimize your YouTube video marketing campaigns, take advantage of Google's Reach Planner. It will help you understand the best audiences to reach. Additionally, it functions in much the same way as Google's keyword planner because it lets you set campaign goals and manage your budget effectively.
10 Tips to Run Google Ads Remarketing Campaigns to Increase The Value Of SaaS Leads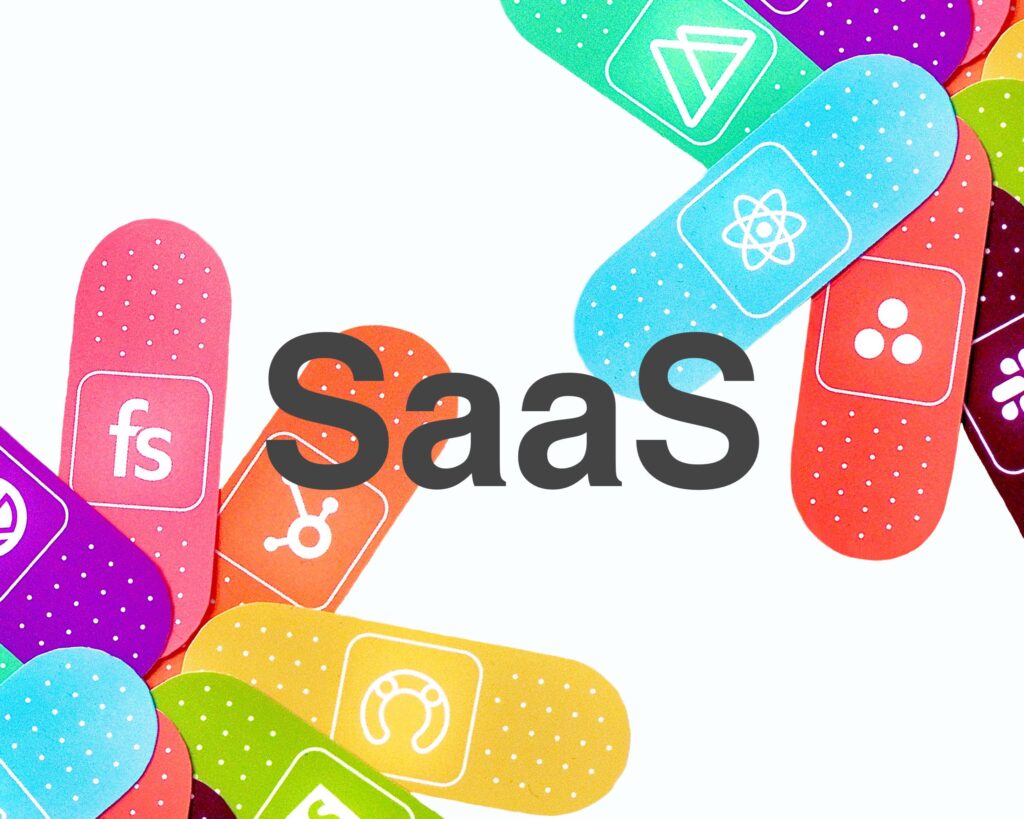 Creating Remarketing ads isn't too different from creating normal Google Ads. However, there are a few points you need to remember for this specific scenario. Most of these revolve around keeping your options as open as possible. Once again, SaaS firms can't afford to waste leads, especially when they only have a narrow niche to work with.
If you follow all our Google Ads tips and get an amazing clickthrough rate, you still might not capture all your leads on the first try. That's where Google Ads Remarketing comes in. Google lets you display your ads to your previous visitors because they know that your leads are valuable to you.
Google Ads Remarketing helps you identify the leads that are valuable to your business based on their past interactions with your marketing content. Those who have shown interest in your products in the past are ripe pickings for a Remarketing campaign. You can reach them with all sorts of different ad formats including search, video, and display campaigns.
Remarketing is a complex topic, so we'll spend the next section covering the best practices associated with it. Most basic Google Ads guides won't go over this information, but it's especially important for SaaS. After all, if you sell a high-ticket SaaS product, then each lead is worth a lot. Don't let them go to waste.
Give Your Remarketing Strategy A Laser Focus
After reviewing your Google Ads data, you might have noticed that there are certain demographics where you saw a high degree of success. Therefore, you might want to try capturing more leads in that demographic. For instance, you might have found a great deal of success with 30-40-year-olds from the UK. In that case, not only will you show your ads to the same people who interacted before, but more specifically, to the demographic that you saw the most success with.
Unfortunately, Google doesn't have information on every single user that makes a search. You could wind up missing out on a lot of your customers. As a result, some people also select the "Unknown" option when they're doing their Google Ads targeting so they don't miss out on their demographic.
Cap Your Audience's Impressions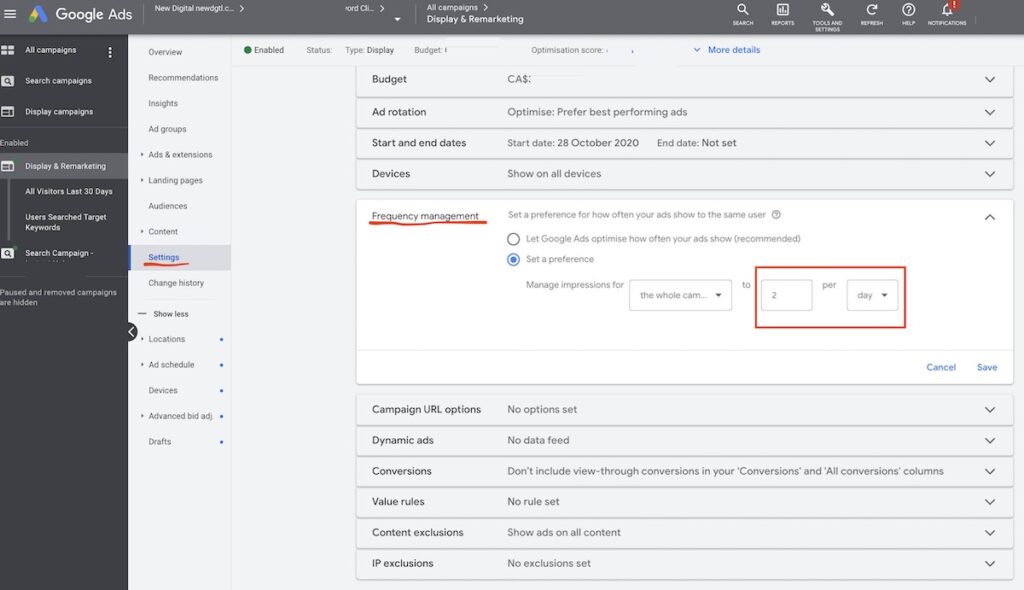 If you don't employ frequency capping, your Remarketing campaign could fall flat. Essentially, you don't want to show your audience the same campaign over and over again to the point that your brand becomes an annoyance. We recommend capping each user's impressions to 2 per week per campaign. That's just enough to keep your brand top of mind without becoming obnoxious.
To cap impressions, simply navigate to your campaign's Settings tab and look for "Ad delivery, Ad rotation, frequency capping". Then you can set daily, weekly or monthly limits to how many times a user is shown either:
Your Ad Campaign
Your Ad Group
Your Ad Level
If you only have 1 or 2 campaigns, you could set your Remarketing frequency a little higher than 2 impressions per week. However, it's quite likely that if you have multiple Remarketing campaigns, your target audience will have some degree of overlap, so they'll see your brand quite a bit.
Use Google Display Network and Video Ads
Google Ads aren't just limited to search engine ads. You can also display your ads on millions of different websites that participate in Google's Display Network. These often offer a cheaper alternative to expensive SaaS keywords, some of which cost more than $100 per click at the upper end.
This is an excellent solution for SaaS businesses that have a wide target audience. There are several websites that your prospects are likely to visit, so if you can find the right sites, advertising there can make a lot of sense. Especially if you're trying to expand your reach and build brand awareness.
On the flip side, display ads aren't the most direct form of online marketing. They're better for collecting a large number of impressions on your ad. You'll need that high volume of impressions to garner more clicks, seeing as 86% of users pass over display ads without even seeing them.
Video Ads, or YouTube Ads are also a viable strategy here. After all, they are a bit more attention-grabbing than a traditional display ad. That said, many of the same pitfalls are magnified here, some find video display ads to be quite interruptive and intrusive.
Use Google Search Ad Remarketing Lists
This is a strategy that requires a lot of leads – you must have a minimum of 1,000 people in your database before you can start using Search Ad Remarketing Lists,, also known as RLSA. Essentially, the RLSA is a list of all the visitors who didn't convert to your ad previously. You will use this list to create the strategy for your more advanced Remarketing campaigns.
Above all, people on your RLSA are those that did not convert from your ad in the first place. That means your initial offer wasn't attractive enough to hold their attention.
You can find plenty of detailed guides on how to use Google RLSA. We'll go over the fundamentals in this section so you can understand the more advanced strategies in the future.
Select The Right Keywords
Once again, keyword research is the lynchpin of any Google Ads Remarketing campaign. Since you didn't score a sale on your first try, you'll need to dig deeper to find the right keywords. Buyers that are deliberating their purchase will usually search for the same keywords over and over again; those keywords typically have high click-through rates and low conversion. These are the types of keywords that people use when they're trying to educate themselves and not when they're trying to buy.
Therefore, you need to use these keywords to pull prospects in once again and give them an extra nudge to buy your SaaS product. Don't be pushy. Instead, try to educate them to the point that they're have their fears alleviated and they're ready to make a purchase.
You'll still need to differentiate between keywords with high and low buyer intent here. Keywords that customers use purely for educational purposes, for instance, "How does a real estate CRM work?" probably won't deliver you many sales. On the other hand, a keyword like "CRM for commercial realtors" has a much narrower, clearly identifiable buyer intent.
Write Appropriate Ad Copy
Once again, your ad copy in this instance will differ from that which you employed in your initial ads. Since your audience at this point has likely researched several different companies, you need to highlight why your software stands out from the rest. What value do you provide that other SaaS companies don't?
In this case, you might also want to offer a discount on your services to make sales. However, you should only do this if you can truly afford to. Some buyers might be turned off by discounts, so you need to understand whether your audience would be receptive to it first.
Use Google Custom Audience
Google Custom Audience, also known as Contact Lists, allows you to upload customer data that you've obtained from your other lead magnets. This data includes email, phone number, and first and last name. It's important to emphasize that your prospects should have given up this information voluntarily. For instance, by filling in some form. There is a minimum number of contacts you need to implement this strategy. Google Search Ads require a minimum of 1000 contacts and Google Display requires a minimum of 100.
Once Google receives this contact information, its algorithm will try to identify the contacts you have in common with its own contact database. Since Google possesses a lot of customer data, this tactic is pretty effective, however, there is no guarantee that they will have a match for every single one of your contacts. Try to upload as many contacts as you can to get the best results.
Ignore Previous Keyword Advice: USE Broad Match for Keywords
Once you have a list defined, you can start building a list of keywords you want to use to reach your contacts. In this case, you've already qualified your contacts because they submitted their information to you. Consequently, you can use broad-match keywords to reach as many of those contacts as possible. No need to look for high-intent keywords, the intention is already clear.
The logic behind this strategy is simple. Since they submitted their information to you in the past, you're taking advantage of the fact that they might remember your brand when they're searching for something that's even slightly related to your software. You're exploiting the brand awareness that you've already built up.
Create Killer Content
Once you've gotten to this point, your customer is likely near the last step in your marketing funnel. You want to make sure that they actually convert. As such, you must tailor your ad copy based on how you acquired these users' contact info.
For instance, if you received these leads in exchange for a free eBook about big data analytics strategies, then you should position your ad copy around big data analytics. You can emphasize the essential points from your eBook in this scenario while also inviting them to explore the topic more on your website.
Whatever the scenario, you want to push people as far down the marketing funnel as possible if they're not ready to buy. The previous example was tailored more toward education, but in other cases, you might want to push the sale harder.
Ensure that the prospect knows it's an ad.
If you're advertising to people who previously viewed your informational content, but didn't convert, then it's important to emphasize that you have a product to sell. Focus the ad on your product and its benefits, and include some product images too.
Represent all your ad formats in all your ad groups.
Make sure you give Google the option to run text, image, or video ads. Some websites will not accommodate image or video formats, so you'll need to downgrade to the next best option depending on their requirements.
This also applies to ad sizes. Make sure that you include a few different ad sizes so you can advertise on as many sites as possible; different websites have different regulations for content sizes too.
Include both still and animated content on your landing pages
Representing both forms of content will ensure that you're reaching everyone. Not everyone is able to or likes watching videos. Therefore, lacing your ad copy with both product images and videos will help convince your audience that your product is worthwhile no matter what demonstration format you use.
Give a discount to incentivize repeat purchases.
Since you're running a SaaS company, repeat purchases are your bread and butter. Therefore, giving a discount code on repeat purchases could help you drive customer retention. After all, it's easier to keep selling to the same customers than it is to acquire new ones.
Add a call to action
Even if your Remarketing ad is more informational than it is an advertisement, you should still send your visitors to your landing pages for your other products.
Give Your Google Ads A Boost With New Digital
If you just started thinking about Google Ads, the subject can be extremely intimidating. That said, you can't let your fear overwhelm you, all you need is a guiding hand. To grow your SaaS company, you should explore every marketing channel available.
Google Ads is one of the most rewarding marketing strategies for a SaaS startup. To save valuable time and money, you can hire New Digital to handle all your Google Ads and PPC marketing needs. After all, you could try to run Google Ads yourself, but that will just divert time you could use to improve your SaaS instead. Not to mention, without any experience, your first Google Ads are almost certain to fail. You're better off investing in your brand with New Digital instead of going it alone.
It takes time to master Google Ads. It is absolutely possible to increase brand awareness, drive more customers and produce a constant flow of qualified leads while keeping your ad spend under control. New Digital is a marketing agency specializing in Demand Generation and Inbound Marketing. Need support with an upcoming Google Ads campaign? Let's talk.