Compared to other industries, law firms have been a bit slow to implement digital marketing strategies. One of the reasons could be that lawyers have some pretty strict regulations that govern what they are allowed to say in their advertisements. Moreover, lawyers are extremely pressed for time. Researching digital marketing strategies is quite time-consuming, let alone implementing them.
That said, if you fail to create a digital marketing strategy for your firm, you're doing yourself a huge disservice. There are around 1.3 million law firms in the United States. You need to put in a bit of effort if you want to stand out from the pack. Hence, we created a law firm digital marketing guide for 2023 to help you get started. Having worked with a few law firms before, New Digital has the experience and know-how to understand exactly how to market your law firm and bring you more clients.
What Is Digital Marketing?
Digital marketing is a marketing strategy that leverages internet technologies to help you reach prospective clients. This can include advertising both organically and through paid advertisements on social media platforms and search engines.
For lawyers, you must use digital marketing because people are increasingly searching for the answers to their problems on the internet. Billboards and word of mouth don't quite cut it for younger people. You need to begin responding to their questions helpfully and visibly.
Why Your Law Firm Needs Digital Marketing
Your law firm needs digital marketing because you need to build trust with prospective clients. After all, paying to hire a lawyer is a big commitment. People will usually rely on word of mouth and emphasize trust in these situations. As a result, it's you should build a relationship with prospects using digital marketing tactics. Once they see your name pop up over and over again, they will begin to place faith in your advice and you could be one of the first people they turn to when they need legal services.
As we noted earlier, effective marketing implies involves answering questions that your target demographic has. You're probably aware of just how many questions people have for lawyers. Even in your day-to-day life outside your practice you probably get questions from people about your work. Generally speaking, people are curious about what you do. This makes it easy for you to develop an internet marketing strategy no matter what vehicle you choose. Once you start trying to answer people's questions organically and speak with authority, people will look to you as a trustworthy figure in whatever subject matter you specialize in.
The thing about a great marketing campaign is that the benefits compound over time. The more people hear about your law firm, the more clients you'll have, and the more referrals you'll get down the road.
What To Expect From A Digital Marketing Firm
It's tempting to try to do all your digital marketing yourself. After all, most of the tools to get started are available online. However, your time as a lawyer is so valuable that it would be incredibly wasteful to bother with digital marketing yourself. To truly elevate your business, you would need to put in dozens of hours of work every week into your marketing strategy – that's simply an untenable amount of time for a busy lawyer.
Therefore, a digital marketing firm is a much better solution. They can slot in and contribute with ad copy, informative articles, and other marketing tactics while you focus on working with clients and managing your law practice.
An Experienced Marketing Team
You can't entrust your digital marketing campaign to a bunch of beginners. That's almost worse than doing the marketing work yourself. You must have input in your strategy, but that input should be going to digital marketers who have worked with law firms and similar businesses before.
As we mentioned, the range of internet marketing strategies is incredibly diverse. Therefore, you should hire a firm that has a diverse range of skillsets too. Oftentimes, you'll see more success trying out a few different promotional methods than sticking to a single one. Whether that's PPC marketing, SEO, content marketing, or Google Ads. One of those is bound to help you hit it big after enough attempts.
During your search for legal marketing experts, you want to be certain that the team is up to date with all the marketing best practices no matter which practice areas you specialize in. After all, experience isn't the only thing. The success of any digital marketing tactic is inherently dependent on being able to keep up and beat its competition. Since online advertising standards are constantly evolving, you'll need to ask the firm about the latest trends in digital marketing so that you can be sure that they'll perform consistently.
Sample Work
Any digital marketing firm should be able to provide you with a portfolio of clients that they have worked with in the past. Of particular relevance to you, of course, will be whether the firm has provided digital marketing for lawyers. Ask for a case study that's relevant to you. As you read it, they should identify what goals they set to help out the firm in question, and how their success was measured.
During our work with the legal industry, we've noted that law firm digital marketing requires a rather specialized approach. We're well aware that your firm's outreach needs to use a sensitive voice since law firms typically deal with sensitive topics.
Compliance With ABA Regulations
Above all, compliance with the regulations of the American Bar Association, and maintaining ethical standards, is essential. While you might be one of the few clients capable of familiarizing themselves with the legal regulations on advertising in their industry, it would be somewhat impractical for you to do so. Instead, you should pick out a marketing firm that has already gotten familiar with the regulations themselves and keeps you compliant.
Marketing regulations often depend on your jurisdiction. For instance, some jurisdictions require you to state that you specialize in a particular type of legal service while other jurisdictions do not. Moreover, you can usually communicate with your audience via text using tactics like tweets while explicitly soliciting your services, however, you may not do so via online video or audio platforms.
The Top 6 Digital Marketing Strategies For Law Firms
The following are our 6 favorite tactics when implementing digital marketing for lawyers. The thing about these tactics is that you could end up drilling down into specifics with each one. Not every Google Ad is equal, and there are quite a few social media platforms. The marketing firm you select should be familiar with a variety of digital marketing solutions.
Social Media Marketing
Google Ads
What Are google ads?
Technically speaking, Google Ads are just one form of pay-per-click (PPC) advertisement. That said, Google Ads are by far the most effective form of PPC ad, everyone's using Google, especially when they're searching for legal advice online.
Google Ads always target a particular keyword. For example, someone searching for a personal injury law firm might type that keyword into Google. Then, you would set up a Google Ads campaign that shows an ad page on your website at the top of Google.
How google ads Can Help Your Law Firm
When you first get your law firm's website up and running, page visits won't come cheap. Google Ads can help you expedite the process of getting your page to rank and also help you pay for leads in the process. Of course, this advertising strategy isn't restricted to new businesses. Practically every business could benefit from Google Ads, law firms are no exception.
According to Ubersuggest, the average cost per click for several car accident lawyer-related keywords is well over $200. When you're paying that kind of price to reach potential clients, you need to hire Google Ads experts who won't waste your money. Moreover, they'll be able to find high buyer-intent keywords that cost less money so that you can maximize your return on ad spend.
google ads strategies
Most Google Ads strategies revolve around maximizing your ROI. At New Digital, Google Ads is our specialty. One common ad tactic that we use is split testing. Essentially, we try different ads with the same keyword to see which ones return the most money to your business. Then, that helps us figure out what style of ad copy your clients respond to and this will help you focus your advertising content in the future. We have already run enough successful ad campaigns to have a good basis to start with. But we track conversions and other Google Ads statistics to figure out what works.
Facebook Ads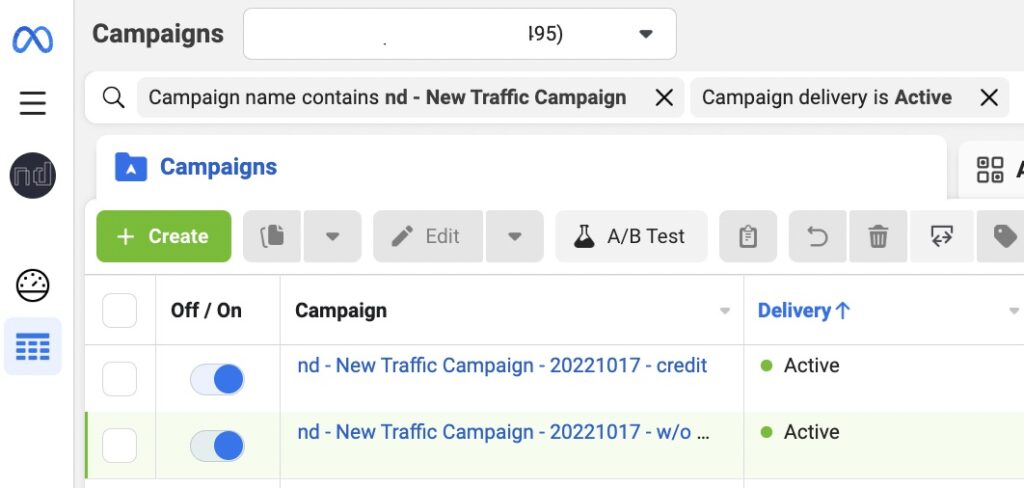 What are facebook ads?
Facebook Ads are another excellent internet marketing strategy that lawyers have seen success with. After all, your audience spends quite a bit of time browsing Facebook. They aren't always looking for answers to questions there, but a good Facebook Ad will encourage them to explore your business further. In marketing parlance, we would say that it helps bring them into your conversion funnel, so the important thing here is to make your prospects interested in learning more about your business.
How facebook ads Can Help Your Law Firm
Facebook has been stereotyped as an old person's website. That might be true, but older people have more legal issues and more money to pay for your services. In most cases, Facebook is a great place to reach your audience. Especially if you're going to pair paid Facebook Ads with an organic advertising strategy where you make videos or infographics and interact with your community.
facebook ads Strategies
The type of ad strategy you use will depend on your target audience. Facebook is rife with video content, so you can try promoting your brand as a law firm by putting out educational videos in your area of specialization.
Moreover, Facebook offers some really detailed audiences to help target your ads. You can narrow down your audience based on age, geographical area, and even specific interests. With so many analytics at your disposal, your only issue will be learning how to manage them. All the more reason to hire a Facebook Ads manager that knows how to cut through mountains of data to find the right audience for your law practice.
Search Engine Optimization (SEO)
What Is SEO?
SEO content marketing is a marketing strategy that involves writing informative articles and posting them to your website. Each article requires you to target a specific keyword or a set of keywords. Then, when people search for those keywords, people will hopefully find your article. If lots of people read your article and find it helpful, then your site will rise in the search engine results pages. As you rise through the ranks, your site will gain notoriety and you'll find more of your articles placed at the top.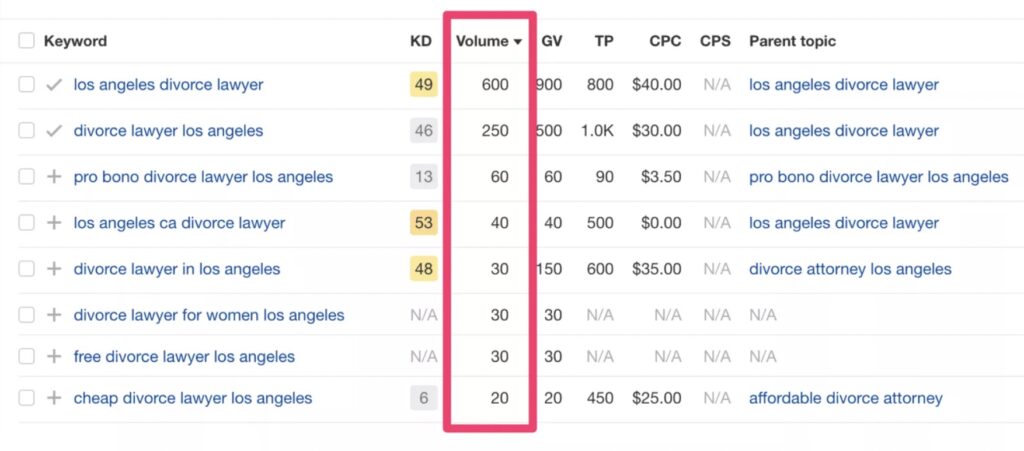 How SEO Can Help Your Law Firm
With a blog, your main priority should be to give answers to your clients' most pressing questions. To identify those questions you or an internet marketing agency will need to conduct thorough keyword research to answer the questions that other firms aren't answering well. Moreover, there are local SEO strategies which we will discuss later.
The prevailing theme here is that you need to create relevant content for your website visitors. If you center your content around your firm's specialty and offer some advice that comes from your personal experience and legal expertise, people will consider you the next time they need a lawyer.
Look at it from the client's perspective. Imagine that someone is trying to legally divorce their ex-spouse, who is no longer present in their household. That person might type the search term "how to legally divorce a spouse who is missing". Consequently, you could create a thorough guide on your website that answers this question. If done properly, someone in this position would be extremely grateful for your help.
SEO Strategies
Create a blog strategy that answers the questions your clients would want to be answered. Try not to focus your writing on the services you offer but rather, on how the services you offer can help solve their problems. The main point of your blog should be education, it's only the first step down your conversion funnel.
SEO isn't exclusively about keywords and writing articles to target them. It's also about building up a reputation amongst your fellow law websites. You'll need to get backlinks. This means you need other websites to link to your articles. Your best bet is to contact law firms in your area that specialize in different areas of law from you and ask them to link your website.
Local SEO
What Is local SEO?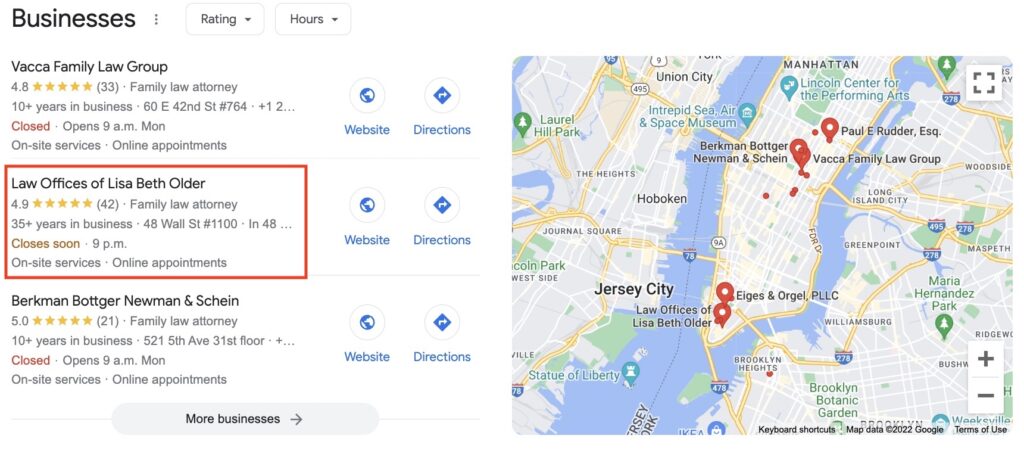 Local SEO is SEO that targets the geographical area that your law firm serves. While ranking high in the search engine results for local queries is a factor here, local SEO also applies to getting you ranked for Google Maps.
How local SEO Can Help Your Law Firm
The law differs everywhere you go. Injury law in Massachusetts isn't the same as it is in Arizona. Therefore, people need law firms that serve their direct vicinity. That makes local SEO one of the lynchpins of digital marketing lawyers' strategy.
Not to mention, people often need a particular type of lawyer urgently. A car accident will usually prompt a quick search for a lawyer. If you can get in front of your audience first in these cases, you'll often be able to win the client over just like that. That's part of the reason why local search ads can be so expensive in these niches.
local SEO Strategies
To succeed in local SEO, you must get all your firm's information right. You should register your business with Google and provide as many details about your business as possible. Furthermore, you should ensure that those details align with the ones listed on your website. Double-check that your address, phone number, email, and more are all accurate to the letter.
To rank highly on Google maps, you'll also need to optimize your law firm's listing. This includes writing detailed business descriptions that appeal to your target audience. Encourage your customers to leave reviews and respond to those reviews with thoughtful or thankful answers, as the scenario requires.
PPC Management
What Is PPC Management?
PPC ads are ads where you pay for each click. PPC management entails a high degree of tinkering to get your ads to return as much revenue to you as possible. These ads are similar to Google Ads in the sense that you need to bid different prices for different audiences. However, context is key. These ads will typically be displayed on someone's website rather than at the top of search engine results. Therefore, you need to consider your audience and tailor your ad copy to suit the scenario.
How PPC management Can Help Your Law Firm
PPC advertisements require full attention, and as a lawyer, that attention shouldn't be yours. PPC management involves a team of copywriters and advertisers working behind the scenes to ensure that every aspect of your ad is helping you convert.
PPC Ad Strategies
PPC ads require quite a bit of intervention. That means you need a digital advertising service that studies your audience to ensure that you always attract the audience you're looking for. This typically requires a fair amount of historical data.
Common issues with PPC ads include high clicks, but few conversions. From this, you can infer that you either have unconvincing ad copy or a poorly targeted audience. A digital marketing firm will help you identify the cause of this problem. Moreover, they should do so expediently enough that the changes happen in real time.
Social Media Marketing
What Is social media marketing?
By now you should know that reaching your customers on social media isn't something you can do optionally. Rather, it's a necessity. It doesn't matter what platform you use, there is almost certainly one that helps you find your audience.
Once again, this isn't a place where you can expect a high conversion rate. This is an avenue for you to show off your personality and educate your users about issues in your niche. Eventually, you'll gather enough followers that some will reach out to you.
At this point, every business knows that they should reach out to customers on social media. However, a significant portion of social media marketing involves finding the platform with the right users that will follow your business' social media accounts. It also involves content marketing that engages your audience and subsequently leads them down your conversion funnel, or into your storefront.
How social media management Can Help Your Law Firm
If you look at most law firms' Twitter feed or other social media accounts, it looks like a ghost town. That's often because those law firms are trying to manage their social media themselves. Outsourcing your social media is probably one of the best decisions you could make. Unless your firm is massive, it's probably best not to hire a social media management company. Instead, you should coordinate this aspect of your marketing with the rest of your digital strategies.
Once your social media is up and running and pumping out high-quality, informative content, you can attract a lot of casual followers. Over time, those casual followers can transform into quality leads. You might also be able to connect with followers and create an email list for you to use in the future.
social media Strategies
Facebook and LinkedIn are great places for you to start your social media campaigns. However, if you're feeling a little more adventurous you could try marketing yourself on TikTok. A marketing firm will help you with advertising on traditional platforms, but there might be a learning curve with the newer ones that incorporate short-form video content. Lawbymike on TikTok is a good example of a lawyer who managed to generate a loyal following. You don't need to do what he does, but the ease of going viral on these platforms certainly makes them seem tempting.
Managing Client Reviews
Managing your client reviews isn't exactly an advertising strategy. However, you should be aware that many of your potential clients are going to do their due diligence on your law firm. A vital part of that due diligence will be reading your reviews to get a sense of your clients' experience.
Therefore, you should constantly encourage your clients to leave you reviews. Don't tell them what they should say though, of course, that would be unethical. As you see the reviews show up on all of your listings, such as Google, make sure that you reply to each and every one. Responding to negative reviews is especially important. Take the high road and don't demonstrate any anger. Address their concerns thoughtfully as long as they are relatively reasonable and valid.
An often underrated aspect of client reviews is that they're a fantastic opportunity for you to do client research. Each detailed review provides a piece of insight into the mind of your average client. Moreover, using the words that they use will help you write effective ad copy that speaks to them directly.
How To Find A Digital Marketing Agency
To help you save time in the future, you should spend a fair amount of time right now vetting prospective online marketing agencies. This can be a bit overwhelming for a newbie, so here are some tips to get you ready.
Create Objectives
When you think about your marketing strategy, there should be an end goal in mind. If you're starting completely from scratch, then you should think about what kinds of profit margins you want to see and what types of people you think your law firm attracts. On the other hand, if you've already got a few marketing channels started, you might want to make quantifiable goals for improving them. Make sure that they're solid, e.g. you might want to increase Google Ads conversions by 200%. In the end, you'll be able to discuss these goals with potential digital marketing firms.
Consult People In Your Organization
Every business, including law firms, has its own specialties and also its own ethos. By speaking to some of the people in your organization and understanding their roles, you'll get a sense of what attracts people to you. It will also help give you marketing content ideas.
Some marketing agencies will conduct this process for you and do so thoroughly. However, it will still help you give them feedback and ideas during your initial meeting.
Think Of A Narrative For Your Law Firm
Every company has a story behind it, and that includes law firms. Your narrative is often what you tell clients when they first come to your firm for an introductory call or meeting. The narrative tells people about how you can help them, along with a little backstory about you.
Once you have a bit of a narrative going, you'll know what to tell your digital marketing firm when you meet with them. They will help transform that narrative into the foundation for your general digital advertising strategy.
Choose New Digital To Handle Your Digital Marketing
Managing your law firm's marketing requires a high degree of focus. Not only does a marketing firm need to target an extremely precise group of prospective clients, but they also need to comply with advertising regulations that are a little more stringent than in most fields.
We've handled businesses of all sizes and specialties at New Digital, but we believe our experience is particularly relevant to law firms. After all, local SEO and Google Ads are among our greatest strengths. We've provided these services to law firms and other businesses – typically multiplying their ad contributions several times over. Get in touch with us today to learn the roadmap to promoting your law firm.